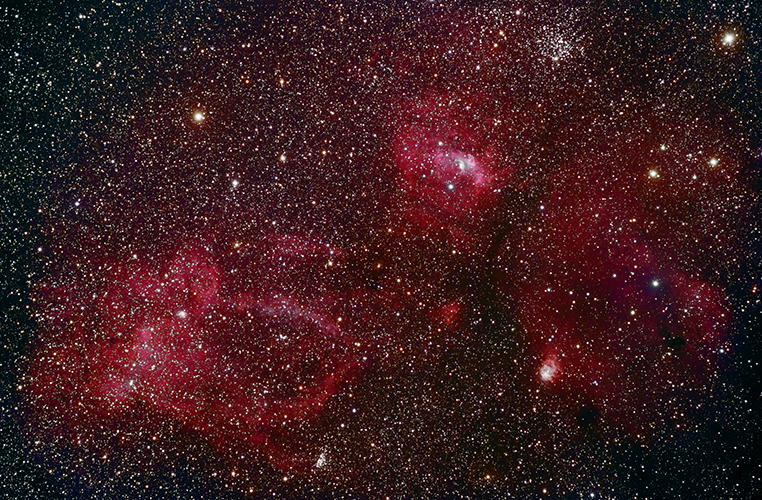 Higher-resolution versions: 1680 x 1050 3969 x 2606
Sh2-157
Object Type: Emission nebula
Constellation: Cassiopeia
Magnitude:
Size:
NGC 7635
Object Type: Emission nebula
Constellation: Cassiopeia
Magnitude:
Size: 15'
M52
Object Type: Open cluster
Constellation: Cassiopeia
Magnitude: 7.3
Size: 13'
Equipment: Vixen 102-ED/TS Optics field flattener/STL-11000M/Astrodon RGB filters/Paramount ME
F-ratio: 6.5
Exposures: RRGB: R 12 x 20 minutes: G 10 x 6 minutes: B 10 x 6 minutes: RGB binned 2x2
Date: August 7, 2010
Location: Landers, California, USA
Technical Notes: Individual exposures were dithered using CCDAutoPilot2 and then sigma combined. The RGB image was created in Registar 1.0. Reduce Noise and Gaussian Blur were applied to the RGB image. Russell Croman's GradientXTerminator plug-in for Photoshop was used to remove mild gradients.