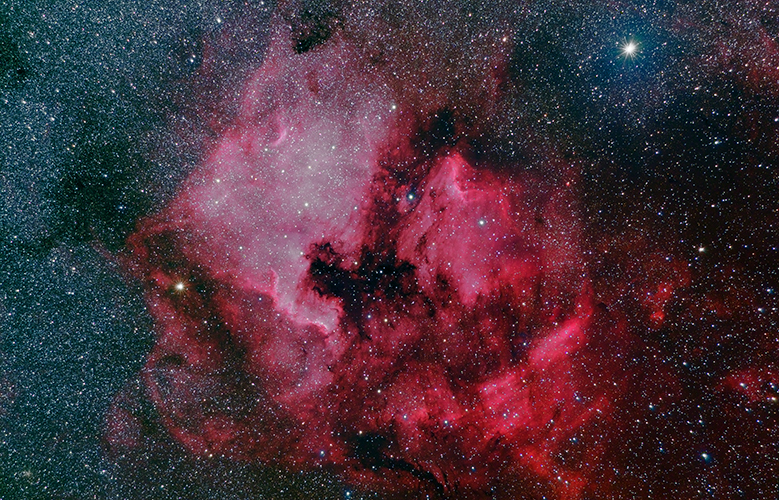 Higher-resolution versions: 1280 x 1024 1680 x 1050 3921 x 2516
NGC 7000 - North America Nebula
Object Type: Emission Nebula
Constellation: Cygnus
Magnitude:
Size: 120' x 100'
IC 5070 - Pelican Nebula
Object Type: Emission Nebula
Constellation: Cygnus
Magnitude:
Size: 80'
Named for their distinctive shapes, these nebulae are located in a rich portion of the summer Milky Way. The North America Nebula can be seen with the naked eye in a dark sky. It is located at a distance of 1,600 light-years. The Pelican Nebula is fainter and more difficult to detect visually.
Equipment: Nikkor 300mm/4 lens/STL-11000M/Astrodon RGB filters/Paramount ME
F-ratio: 5.6
Exposure: RRGB: R 11 x 20 minutes: G 10 x 6 minutes: B 10 x 6 minutes: GB binned 2x2.
Date: August 6, 2010
Location: Landers, California, USA
Technical Notes: Individual exposures were dithered using CCDAutoPilot2 and then sigma combined. The RGB image was created in Registar 1.0. Reduce Noise and Gaussian Blur were applied to the RGB image.