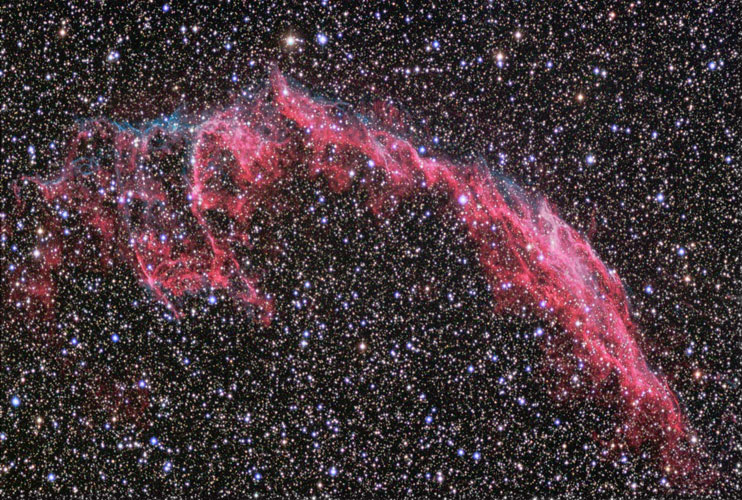 Click on the image for a higher-resolution version.
NGC 6995
Object Type: Supernova Remnant
Constellation: Cygnus
Magnitude:
Size: 12'
NGC 6992
Object Type: Supernova Remnant
Constellation: Cygnus
Magnitude:
Size: 60'
The brighter, eastern portion of the Veil Nebula complex is composed of NGC 6995, the irregularly shaped nebulosity in the left third of the image, and NGC 6992, the gently curved arc in the right two-thirds of the image. The nebula glows primarily in red light from H-alpha emission, with some blue-green O-III emission in the upper (eastern) portion.
Instrument: ST-10XME/Vixen 102-ED
F-ratio: f/6.5
Exposures: LLRGB: L 8 x 5 minutes, binned 1x1; R 8 x 5 minutes; G 8 x 5 minutes; B 8 x 5 minutes; RGB binned 2x2
Date: August 14, 2004
Location: Mount Laguna, California, USA
Technical Notes: Conditions were mediocre for this observing site. Afternoon thunderstorms soaked the ground, and a considerable amount of mist was present in the atmosphere, which resulted in heavy dew formation and substantially reduced transparency. Individual exposures were sigma combined and the RGB image assembled in Registar 1.0. Levels and Curves adjustments were made in Photoshop CS which was used to create the LLRGB image. The brighter nebulosity in the luminance image was sharpened with Unsharp Mask at 50% with a radius of 2.0 pixels and a threshold of 0. The remainer of the image was blurred with a Gaussian Blur of 0.5 pixels. A Gaussian Blur of 2.0 pixels was applied to the RGB image. An LRGB image was composited with an opacity of 50%, and the resulting image was composited again with the luminance with an opacity of 100%. The original image was resized for display on this page.