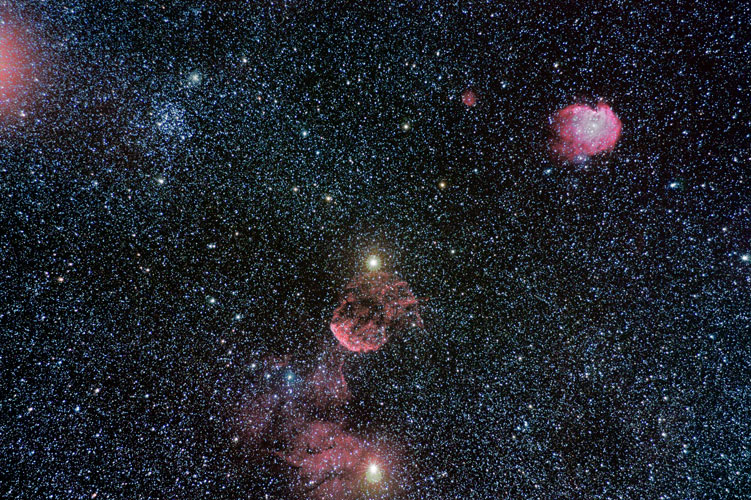 Higher-resolution version: 1680 x 1050
M35
Object Type: Open cluster
Constellation: Gemini
Magnitude: 5.1
Size: 28'
IC 443
Object Type: Supernova remnant
Constellation: Gemini
Size: 50'
NGC 2174
Object Type: Emission nebula
Constellation: Orion
Size: 40'
Several different star clusters and nebulae are visible in this image. The open cluster M35 is at upper left, along with the smaller cluster NGC 2158. IC 443 is just below center, and at upper right is NGC 2174. Sh2-247 is the small emission nebula to the left of NGC 2174. The reddish glow at the upper right edge of the image was created by glare from Mars, which was just outside of the frame.
Equipment: Nikkor 300mm/4 lens/STL-11000M/Astrodon LRGB filters/Paramount ME
F-ratio: f/5.6
Exposures: RRGB: R 8 x 16 minutes: G 8 x 4 minutes: B 8 x 4 minutes: GB binned 2x2
Date: March 8, 2008
Location: Landers, California, USA
Technical Notes: Individual exposures were sigma combined. The RGB image was created in Registar 1.0. A Gaussian Blur was applied to the RGB image and to the dim portions luminance image. A high-pass filter of 4 pixels was selectively applied to the bright portions of the luminance image.