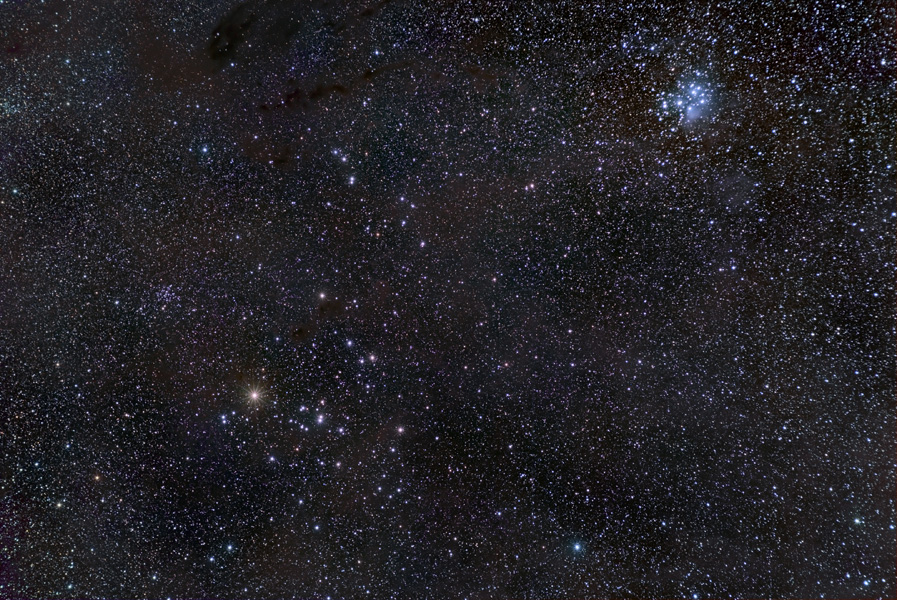 Higher-resolution versions: 1280 x 1024 1680 x 1050 3946 x 2638
Contrast-stretched version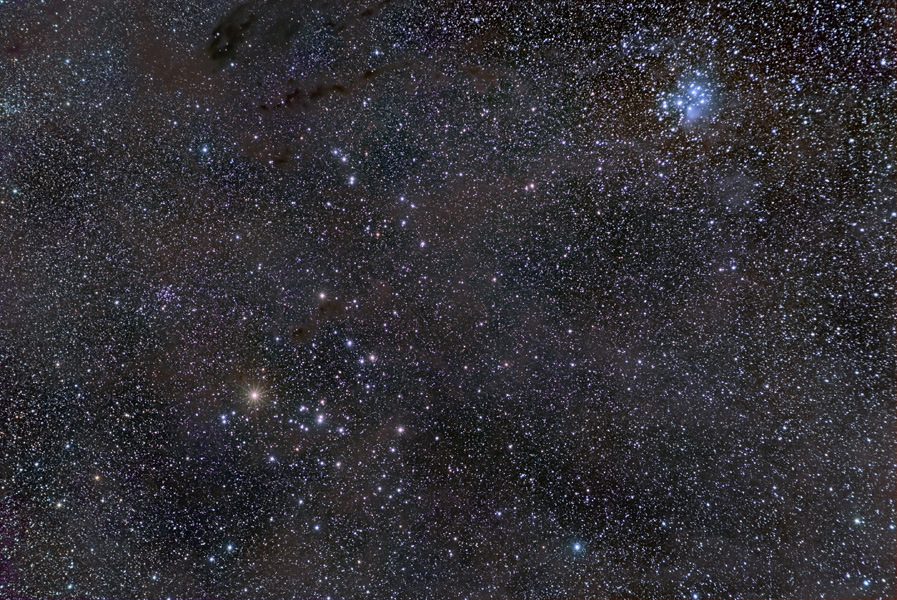 Higher-resolution versions: 1280 x 1024 1680 x 1050 3946 x 2638
Mel 25 - The Hyades
Object Type: Open Cluster
Constellation: Taurus
Magnitude: 0.5
Size: 330'
M45 - The Pleiades
Object Type: Open Cluster, Reflection Nebula
Constellation: Taurus
Magnitude: 1.6
Size: 110'
Except for the Ursa Major Moving Cluster, which is not apparent visually as a distinct cluster, the Hyades are the nearest open cluster to the solar system, located at a distance of 151 light-years and estimated to be 660 million years old. The 1st-magnitude orange star Aldebaran is seen near the eastern (left) portion of the Hyades, but is not an actual member. For a description of the Pleiades, see the closeup image. Also visible in this image is the magnitude 6.4 open cluster NGC 1647 to the upper left of Aldebaran.
Equipment: Nikkor 85mm/2 lens/STL-11000M/Astrodon LRGB filters/Paramount ME
F-ratio: f/4
Exposures: LRGB: L 12 x 5 minutes: R 12 x 5 minutes: G 12 x 5 minutes: B 12 x 5 minutes: RGB binned 2x2
Date: December 17 and 18, 2011
Location: Landers, California, USA
Technical Notes: Strong gradients were present and were removed with Russell Croman's GradientXTerminator plug-in for Photoshop. The RGB image was created in Registar 1.0. Reduce Noise was applied to the RGB image and the dim portions of the luminance image.