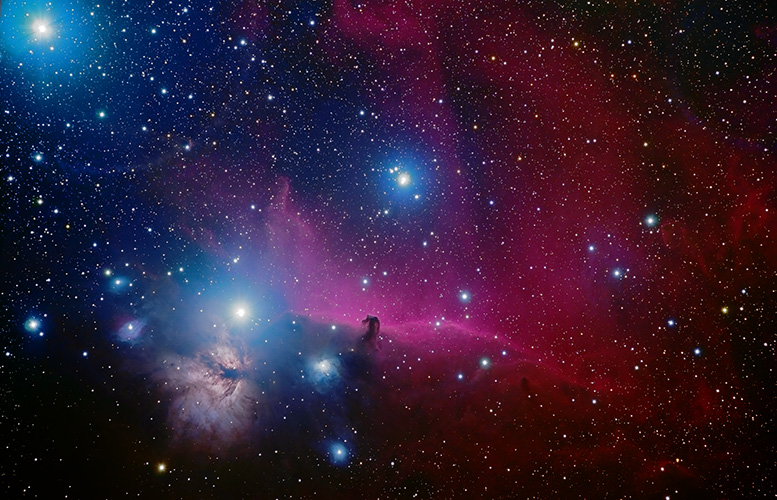 Higher-resolution versions: 1280 x 1024 1680 x 1050 3922 x 2523
NGC 2024 - Flame Nebula
Object Type: Emission Nebula
Constellation: Orion
Size: 30' x 30'
IC 434
Object Type: Emission Nebula
Constellation: Orion
Size: 60' x 10'
B33 - Horsehead Nebula
Object Type: Dark Nebula
Constellation: Orion
Size: 6' x 4'
B33, the Horsehead Nebula, is the most famous dark nebula in the sky. It is a region of dust and non-luminous gas, silhouetted against the emission nebula IC 434. Both of these are challenging objects to observe in small to moderate aperture telescopes; using an H-Beta filter helps to make both nebulae more distinct. NGC 2024, the Flame Nebula, is brighter and easier to observe, as long as the second-magnitude star Alnitak (Zeta Orionis) is kept out of the field of view. The dark lane dividing the nebula is apparent in modest-sized telescopes. The blue reflection nebula to the lower left of the Horsehead is NGC 2023.
Equipment: Vixen 102-ED/TS Optics field flattener/STL-11000M/Astrodon LRGB filters/Paramount ME
F-ratio: f/6.5
Exposures: LRGB: L 10 x 6 minutes: 10 x 6 minutes: G 10 x 6 minutes: B 10 x 6 minutes: RGB binned 2x2
Date: January 14, 2010
Location: Landers, California, USA
Technical Notes: Individual exposures were obtained using CCDAutoPilot2 and then sigma combined. The RGB image was created in Registar 1.0. Reduce Noise was applied to the RGB image and to the dim portions of the luminance image. A high-pass filter with a radius of 4 pixels was selectively applied to a copy of the luminance image.